A strong member community is more than a point of pride for your association's executive team — it's also your best retention and recruitment tool rolled into one!
Think about it from your members' point of view. Members who feel like they truly belong in your association will want to stick around, and potential members will want to join because they see personal, social, and professional value in the network.
To encourage a healthy, engaged member community, you don't need much besides your passion and a capable association management system.
In this post, we'll explore these top strategies for engaging your member community, all made possible by a great association management system:
Ready to foster a strong member community within your association? Make sure you have the right system in place with our ultimate buyer's guide to association management software, then get ready to put your system to use!
1. True-cloud solutions keep software up to date
For you to put these tried-and-true member engagement strategies into practice, you need your members to first be engaged with your association management system. After all, you can't foster a sense of community through your software if your members won't log on to their profiles.
Nothing dissuades participation quite like out-of-date software. Your members don't want to use software that's so outdated that it gets in their way, and they can't use software when it needs to be taken offline to be manually updated. Don't miss out on member engagement for easily avoidable software reasons!
To ensure that your members actually use your software, choose a solution that's based in the cloud, like Fonteva. Since Fonteva is based in Salesforce, the most popular cloud-based CRM, updates are automatic, fast, and included in your license:
Plus, up-to-date software is one of the best defenses against a costly password breach. When you use Fonteva, you can assure your members that you're taking steps to protect their confidential private information, and you don't even have to push the updates live — the system updates itself automatically, applying the latest patches from the most secure cloud CRM in the world, Salesforce.
There are plenty of other benefits that come from choosing a true-cloud association management system, including:
Storage space for as many member profiles and events you need
Access to the database from anywhere, not just in your office
Smooth and quick implementation, so you can hit the ground running
These factors let you bring as many members into your system as you want as quickly as you want, so you can get started with your membership engagement strategy right away.
The Takeaway: A true-cloud association management system like Fonteva stays up-to-date automatically, encouraging your members to use it and thereby opening up opportunities for your team to foster a stronger community.
2. Association membership directories inspire connection
A strong member community isn't made up of members who only interact with your association's administrative team.
The communities that members want to join and stay in are those in which members regularly and meaningfully engage with each other, not just the association's leaders.
That doesn't mean there's nothing your team can do to foster a strong community! To the contrary, the structure you set can either encourage or discourage members from connecting with one another.
One simple way to set your community up for success is to allow members to find each other through a membership directory. Think about it like social media — your member profiles might even be modeled after highly intuitive consumer-facing social networking apps, like Fonteva:
It might seem too simple to be true, but a membership directory does more than you think:
Connections: What if you discovered that someone you knew through an association attended the same university as you? When members can see each other's profiles, they will discover unexpected, happy connections that encourage them to reach out and start conversations.
Groups: Ensure that your members can see what groups, committees, and chapters other members are in and can request membership in those groups. Members might not know what networking opportunities are out there until they see them listed on other members' profiles.
Badges and awards: The competitive spirit is alive within most member communities! Display badges and awards publicly on your members' profiles for other members to see and aspire to.
Profile updates: Because members know others will be searching for them through their profiles, they are more likely to keep the information in those profiles updated. This information helps your association later on with marketing and analytics.
When your members establish real connections with other members and engage more meaningfully within your association management system in these ways, they will feel more invested in your association. The more time and attention they devote, the closer they feel to the community!
The Takeaway: Encourage your members to find meaningful connections to other members — and to update their own profiles regularly — by setting up a public member directory.
3. Communities and committees empower members
Centralizing a lot of your association's planning is important. But it's not practical, especially for enterprise-level associations, to manage each aspect of your operations from such a high vantage point.
Why not pass off some of that administrative weight onto your members? The privilege to manage some of their own operations is actually empowering for your members.
Look for an association management database that incorporates member-driven communities and committees that allow your members to:
Create new member groups and microsites
Personalize the appearance of group pages
Grant access to members who request it
Communicate online or through email
Display committee membership on public profiles
Integrate with payment gateways
Organize special projects and events
With these key features, your members will feel a sense of responsibility and authority, not just belonging. They can organize events, sell merchandise, and facilitate relevant conversations.
Even better, ensure that your members can accomplish all these tasks on the go! With Fonteva, communities and committees operate like consumer-facing social networking apps. Here's what your member sees when they view a committee from a mobile device:
The Takeaway: With a degree of administrative access, your members will become more invested in your association and its mission.
4. Association software events management diversifies engagement
If your goal is so inspire a sense of belonging, there's nothing better than an in-person event. Some things just can't come across in online communication.
Whether it's a networking lunch, a conference, or a cocktail party that you want to organize, the key to an engaging membership event is integration with your association management system. If your event management solution and association management database are integrated, you'll be able to:
Save time and administrative stress: All the information from your event registration forms goes straight into your membership database without you having to manually transfer it after your event.
Offer automatic member benefits: If certain higher-level members get a special registration slot, for instance, you need an association management system that can automatically apply that benefit instead of the member calling your office to override the system.
Sell memberships and event tickets together: Some people will want to purchase or upgrade their membership to redeem those special permissions. Invest in a system that can streamline membership purchase and event ticket purchase into one checkout.
Allow local chapters to host events: You're already empowering your members to find community online, so why not give them the agency to bring that local community together in the real world?
With Fonteva, event management is already included! You get all the features that come along with Salesforce event planning:
On top of these event personalization features, you keep your data centralized in one place when you organize events in your association management database.
The Takeaway: Organizing events with your association management system doesn't just ease your administrative burden. With an integrated event management system, you deliver a smoother experience for your members.
5. Mobile functionality encourages participation
More and more often, your members are accessing the most important elements of their social and professional lives through their mobile devices. By implementing mobile functionality, you encourage your members to take your organization with them on the go into multiple arenas of their lives.
The easier it is to access your member community, the more your members will do just that.
When looking for membership and association management software with the right mobile features, keep in mind that you want to encourage users to use your app, not discourage them. A mobile app is not useful if it's so difficult to use that none of your members want to log on.
You should search for an intuitive app that doesn't require you to train your members on how to use, like Fonteva:

The Takeaway: When members log on to Fonteva on their mobile phones, they see familiar menus and feeds that they might see on a social networking app. This familiarity encourages them to use the app wherever they are!
6. eStores help members show off their membership
Selling branded merchandise online is a great way to make additional revenue for your association. Plus, every time your members wear branded merchandise from your online store, they walk around as free advertising for your association!
Beyond the free advertising, branded shirts, water bottles, and stickers are ways for your members to identify themselves outside their member profiles in the real world. The more tangible their membership is, the more connected they feel to it, and the better chances they have of renewing their membership.
With Fonteva, you can sell all of those items and more: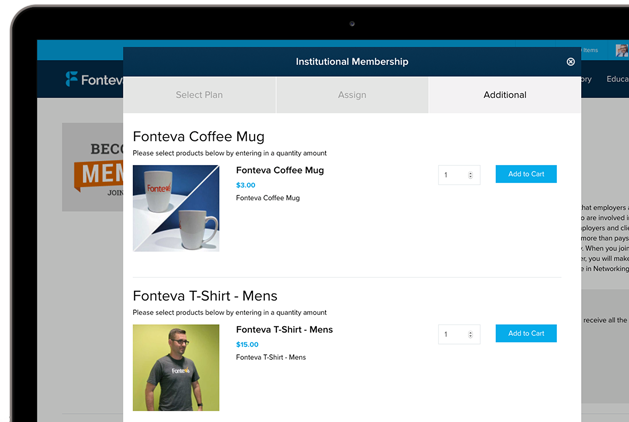 Instead of signing up for a third-party site to sell your items, integrate your eStore with your association management system. You'd be surprised by the benefits:
Enforce a variety of custom pricing levels based on membership level
Track purchases by custom membership profile fields
Take advantage of the same payment gateways you use for dues and donations
Sell memberships, tickets, and even sponsorships using the same checkout system
Allow members to store their payment information in a secure online wallet connected to their profile
The Takeaway: Go beyond bringing in additional revenue and use your association management system's eStore as an opportunity to engage your members.
7. Association membership system tracking flags at-risk members
Even engaged members can decline to renew, for a number of potential reasons. They might not be able to cover their membership dues, they might have moved to a different city, or they might not be getting out of your association what they wanted.
Those reasons are important for your association to know because they can help guide your operations in the future. But before you can discover them, you need to identify those members before they lapse out of your association.
For that, you need a robust reporting option that's:
Accessible, so each of your association's departments can build reports about information that's relevant to them
Intuitive, so anyone can produce useful reports regardless of coding experience and without help from IT
Customizable, so any staff member can monitor any custom fields that are helpful for their segment of your association
When you integrate these reporting features with your association membership database, you can build reports that pull from membership information without having to import it. The association management system does the work!
Take a look at the kind of data you have quick and easy access to with Fonteva's reporting dashboards:
Associations need to monitor their membership renewals for approaching deadlines. Automated membership renewal letters are great early defense against missed renewal deadlines, but you might consider a more personal approach when the deadline is right around the corner.
There are other factors that can indicate an at-risk member, which depend on the association. If your association plans many events, for example, members who haven't attended in a few months might merit a call or email to ask them why they haven't shown up.
With Fonteva dashboards, you can view common membership statistics while personalizing your view for your particular organization.
The Takeaway: Decreasing attrition becomes a more streamlined project when your association takes advantage of a sophisticated association management system's custom reporting.
---
From recruitment to retention, your association management system is the most efficient tool in your association's toolbox. Engaging your members in a strong member community starts with forethought and the best software available! When it comes time to start comparing various association management software solutions, prioritize all the different features discussed above.
For more about association software, check out these additional resources:
https://associations.fonteva.com/wp-content/uploads/2018/04/association-management-system_Feature.png
310
615
jfabbri
https://associations.fonteva.com/wp-content/uploads/2021/09/FONTEVA_WHITE_LOGO-smol.png
jfabbri
2018-04-02 08:00:57
2021-06-28 16:50:20
Association Management Systems: 7 Tips for Strong Community