The best association management software, or AMS, solutions are specifically designed to meet the unique needs of associations just like yours. With features spanning database capabilities, messaging and email tools, accounting and payment systems, and event planning, a top AMS solution is a smart move for practically any group.
The time and money that effective software saves leaves you more resources to devote to pursuing your goals and continuing to grow. However, finding the perfect software solution that directly addresses your needs and checks all the necessary boxes can be a real challenge!
As you begin your search, take the time to explore beyond the first dominant choices you come across. Other solutions typically include more specific features in nimble, more flexible structures.
That's why we've created this comparison of all the biggest names on the market – and provided our own reviews! This list spans a variety of niches and levels of comprehensiveness, so be sure to read through each section. That way you'll get a clearer sense of the particular balance of specificity, utility, and ease-of-use that will best suit your association's needs. Here they are:
If a more lightweight, membership-oriented solution might be more appropriate for your software needs, be sure to check out our membership software comparison and buying guide too! Ready to get started? Let's dive in. 
1. Fonteva Membership
Overview of this Association Management Software
Fonteva Membership is among the best AMS solutions out there for a number of reasons.
Its comprehensive features fit within a lean and intuitive structure that can get your team up and running in no time. 
Focused on offering your team both big picture planning capabilities and more specific tools to fine-tune your strategies, events, and communications, Fonteva Membership is a powerful partner for any membership-based organization.
Plus, the software is built on Salesforce, the world's leading CRM platform for businesses. Integrations like these are what make a strong software solution the best software solution. Retain more members and grow like never before with one of the most agile and intuitive AMS solutions on the market!
Top Features of this Software
Fonteva Membership includes a wide variety of intuitive features and tools, all designed to take your association's digital operations to the next level. Some of its top features include:
Comprehensive member profiles and database reporting capabilities. Automated and custom data reporting into your member CRM makes it easier than ever to track your members, identify areas for growth, and get a firm grasp on your own data. Built on the Salesforce platform, Fonteva can help your wealth of data start working for you.
Powerful event management features. Fonteva Membership includes enterprise-level event management and planning tools, with no extra integrations necessary. Draw directly from your own data reports, contact databases, and member CRM to plan your best event yet, all in a single platform.
Member communities and tools. Fonteva Membership allows you to create and customize communities and committees for your members. Plus, your members have the ability to form and manage their own groups! Organized collaboration is easier than ever with a platform designed to truly facilitate it.
What Makes This One of Our Top Choices
What makes Fonteva Membership the best option in our association software review? Its full integration with Salesforce.
As a native Salesforce app, Fonteva offers associations the power and the flexibility needed to not only fit comfortably within your operations, but also to streamline every aspect of them.
There are no growing pains with Fonteva – it's a completely scalable solution.
As a true cloud solution, Fonteva Membership allows you to choose the functionality you need when you need it. You can easily add additional tools as your association grows and your needs change.
2. Doubleknot
Overview of this Association Management Software
Doubleknot is the strongest contender in our association software comparison for "best platform for the needs of a niche sector." Their core clientele? Cultural associations, nature centers, museums, zoos, and aquariums.
As organizations with completely unique needs, the best AMS is the solution that most directly addresses their needs.
Doubleknot's clients rely on their membership programs for stable support. That's why the software's comprehensive and specially-designed management, data, and planning tools are their best choice for ensuring continued development and success.
Top Features of this Software
Doubleknot includes a full suite of association management features plus additional tools perfectly suited for the management of cultural organizations and nature centers. They include:
Full membership management platform. Retain more members by gaining a deeper understanding of your program's engagement trends and demographics. Customize your communications strategies and automate online benefits like discounts and registration perks.
Program management tools. Full event and program configuration options let you create simple or complex tracks for your members. Plus, Doubleknot makes it easy to fully customize and update your registration forms, add-ons, payment options, and communication settings.
Ticketing and reservation management. Doubleknot's fully customized online reservations platform will streamline your facilities management process and seriously boost engagement. Your members will appreciate the easy digital (and printable) ticketing system, too!
What Makes This One of Our Top Choices
Doubleknot made our association software review because it's a leader in a particularly difficult niche.
It offers fully comprehensive features that nonetheless directly address the needs of organizations and membership programs that are too often overlooked by dominant AMS solutions!
3. Higher Logic
Overview of this Association Management Software
Higher Logic is among the best in our association software comparison for groups that need a more general but effective and flexible suite of management tools.
The digital management toolbox provided through the Higher Logic platform offers effective, lightweight solutions for associations, commercial businesses, and nonprofit organizations alike.
Top Features of this Software
Higher Logic's association management platform provides a full set of digital tools to help streamline and boost your operations:
Interaction-centric design. Along with customizable member communities, Higher Logic features online forum-style discussion boards, perfect for starting conversations and engaging your members for the long run.
Customizable databases. In addition to full member profiles, dues tracking, and other data reporting tools, the software includes knowledge databases, designed to help your team and members preserve your crucial combined industry knowledge.
Fundraising tools. Generate additional non-dues revenue with integrated advertising opportunities that attract new sponsors interested in connecting with your community. Plus, tighter data reports and projections make it easier than ever to plan a winning campaign.
What Makes This One of Our Top Choices
With its lightweight yet comprehensive design, Higher Logic is generally a great choice for most groups.
Its flexible features allow your team to collect more and more data in the long run, leading to more targeted decisions and smarter, more sustainable growth.
4. CiviCRM
Overview of this Association Management Software
CiviCRM is unique in our association software review because it's completely open source.
Although it's technically designed to meet the needs of nonprofit organizations, the highly customizable open source structure of the software makes it a great choice for associations with the resources and know-how to fine-tune a perfectly tailored management solution.
This has made CiviCRM a powerful software provider for nonprofits and associations all over the world. 
Top Features of this Software
A number of key features place CiviCRM among the best association management platforms available, including:
Open source software structure. As an open source platform, CiviCRM is inherently highly customizable and supported by its worldwide network of active users and volunteers. With some professional help, you can completely tailor the software into your own perfect management tool.
Full suite of membership tools. Along with comprehensive CRM and contact database features, CiviCRM includes a full toolbox for configuring and managing your membership program. Automated data reporting and smart groups make it an effective tool for associations, too.
Accounting integrations. CiviCRM can dramatically reduce manual data entry for your team, and its robust control system lets you fully customize the export process. This leads to more efficient, more organized, and more actionable accounting reports!
What Makes This One of Our Top Choices
CiviCRM will sit near the top of almost any association software comparison.
That's because you can't overestimate the potential value of using such a highly customizable solution for your digital management needs. 
With CiviCRM's open source platform, you and your team of developers can completely refine the software into your own perfect association management tool.
5. Wild Apricot
Overview of this Association Management Software
Wild Apricot is an extremely popular, comprehensive management solution option for smaller associations, nonprofits, and clubs.
The platform leads its niche by offering strong tools to smaller and mid-sized groups that would likely be otherwise unable to access them. 
As such, Wild Apricot's association software is a strong general suite of digital tools that have been perfect for groups of all sorts.
Top Features of this Software
Some of Wild Apricot's top features include:
Lightweight and accessible database. Wild Apricot's member database tools provide a comprehensive, secure way to store all your important data in one place. Backed up in cloud storage, users can also access and update their own profiles.
Payment processing. Wild Apricot allows you to directly accept online payments for dues or other member purchases. Plus the renewal and reminder processes are fully automated, which also makes financial reporting a breeze.
Website builder tools. Create a professional website for your group in just a few hours with the software's built-in web design tools. A drag-and-drop interface lets you quickly create a site that includes all the important information and tools that members need.
What Makes This One of Our Top Choices

Wild Apricot is often among the top reviewed AMS solutions, and is a no-brainer for our association management software review. 
That's because its suite of solutions is perfectly geared towards smaller and mid-sized groups and organizations that need a comprehensive set of tools without the heavy-duty price tag.
Offering effective tools that can be easily adapted to work for all sorts of community and professional associations makes Wild Apricot a top pick.
6. MemberPlanet
Overview of this Association Management Software
Too often smaller organizations are unable to afford the management tools that can unlock higher levels of growth. MemberPlanet steps up to fill that niche.
As a lightweight, easy-to-use choice for small associations without the need (or budget) for more comprehensive management platforms, MemberPlanet is a strong choice for all kinds of smaller groups.
Top Features of this Software
Even as a more lightweight solution, MemberPlanet offers extremely effective features, like:
Communication tools. Easy email templates and group texting tools make it easy to direct your messaging campaigns. Spread the word to all your members quickly and easily with automated and customizable tools.
Simple payment processing. MemberPlanet's 'QuickPay' platform is just one of their several payment tools. Collect membership dues, enable recurring payments, accept donations, and create customized invoices and forms in no time.
Easy-to-use member directory. Update, organize, and browse all your members in a straightforward database tool. You can customize fields and access permissions to make sure your whole team contributes to a culture of efficiency.
What Makes This One of Our Top Choices
MemberPlanet is a top association software solution because it more directly fills a void that other solutions ignore, that is, smaller groups without the resources for much larger software suites.
As a straightforward management solution, MemberPlanet's features and tools get the job done without requiring too much customization or manual input.
7. Eleo
Overview of this Association Management Software
Eleo is a top association software that is especially powerful for groups focused heavily on fundraising.
The management suite effectively doubles as a platform for nonprofit organizations that need a donor management system to handle more complex needs.
This kind of flexibility earns Eleo its place on our association software comparison.
Top Features of this Software
Some of the best features of Eleo's software include:
Donor and member databases. Eleo's flexible database functions are perfect for organizing and storing your data and contact information for members and donors alike. Designed for fast and easy access, you can quickly search your databases for exactly the entry you need.
Gift entry and acknowledgments. Within Eleo's database tools, it's easy to track individual gifts, record essential related data, and categorize the entry. Plus, the comprehensive database view allows you to effectively manage your thank-you and acknowledgment messages.
Grant management. If your association or organization applies for grant funding, keeping close track of the whole grant writing process is crucial to success. Eleo's tracking features let you manage your grant projects, keeping all the essential data and plans in one organized place.
What Makes This One of Our Top Choices
While most association software solutions are useful for fundraising nonprofits (and vice versa), Eleo is designed specifically to fit between them.
Offering the best of both worlds, Eleo's fundraising tools and easy-to-use management features make it a clear choice for our management software review.
8. MemberClicks
Overview of this Association Management Software
MemberClicks is an all-in-one management software solution perfect for smaller organizations. Their software is great for staff and trade associations, as well as chambers of commerce.
This software is a great choice for associations that are looking for a lightweight association software option that offers awesome customer support as well as top-notch event planning options.
Their hands-on approach to implementation makes them a valuable resource for smaller associations.
Top Features of this Software
MemberClicks is a seriously robust software solution for its size, including features such as:
Member website and CMS builder. They offer organizations the option to build an appealing and informative website easily, or use their tools to enhance an existing website. With MemberClicks, your organization can improve its web presence, grow your social community, and save time with their database solution.
Event management.

It can be hard for a small staff to keep track of everything that goes into planning and running an event, but MemberClicks makes it easy. An association can generate and customize registration forms, manage attendees online, and create reports.

Automated application management and dues renewals.

With these features, you can add member application forms to your website; send out automated and personalized emails about deadlines, renewal dates, and grace periods; and update member status automatically.
What Makes This One of Our Top Choices
Recruiting and maintaining members is easier than ever with a solution like MemberClicks.

MemberClicks is a top association management choice because it carefully balances economic practicality with robust functionality. Smaller associations will love using MemberClicks to manage their memberships.
9. ClearView CRM
Overview of this Association Management Software
ClearView CRM, built by SofTrek, is a super-functional membership management software solution perfect for larger organizations with a fundraising focus.
While ClearView CRM isn't specifically built for associations, it is so flexible and customizable that everyone from nonprofits to trade associations can use it to improve their fundraising capacity, membership retention rate, and communication strategies.
Top Features of this Software
Even though ClearView CRM isn't a true AMS, it still has a lot of the most valuable features of traditional AMS platforms, including:
Event management options. With ClearView CRM, you can build and distribution registration forms, track organizational expenses, advertise your events, and track attendance trends and payment statuses, all through the platform!
Online marketing features.

ClearView CRM offers a lot of online marketing functionality, including options for segmented email campaigns, social media campaigns, and more.

Membership management features.

The most important feature for any association, of course, is member management. With ClearView CRM, you can generate membership billing statements, analyze membership trends, and track upgrades and downgrades.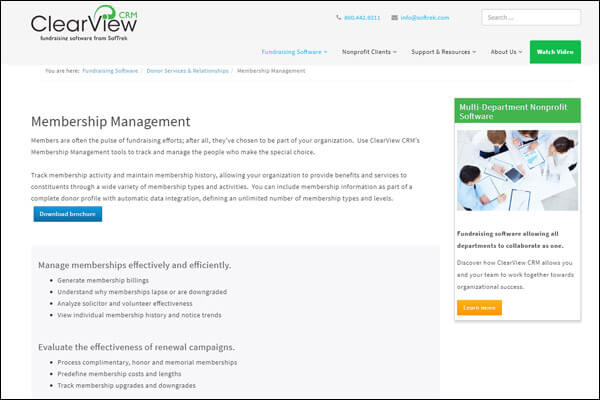 What Makes This One of Our Top Choices
These features can help any organization stay on top of their membership strategy and strengthen their communication tactics.

ClearView CRM is a stellar association software choice because of its customizability and vast suite of resources. It is a great option for larger associations with multiple chapters because of its multi-channel fundraising techniques.
10. 123Signup
Overview of this Association Management Software
123Signup is a reliable and secure association management option for associations looking for a cloud-based platform.
When your association needs a lightweight platform that allows members to change their membership status, sign up for events, and network within the association, 123Signup is a powerful option.
With a scalable pricing system based on number of memberships, 123Signup was a shoo-in for our association software comparison.
Top Features of this Software
123Signup offers tons of easy-to-use membership management features. Here are just some of our favorite options:
Event registration.

When you host events, you can empower your members to sign up online as well as purchase or renew memberships during the process.

Real-time reporting and analysis.

With access to 50+ pre-built reports gives you a better understanding of membership trends, event attendance, financial data and more, so that you can make better data-driven decisions.

Targeted emails.

You never have to worry about members missing invites, newsletters, surveys, or renewal reminders with targeted email options.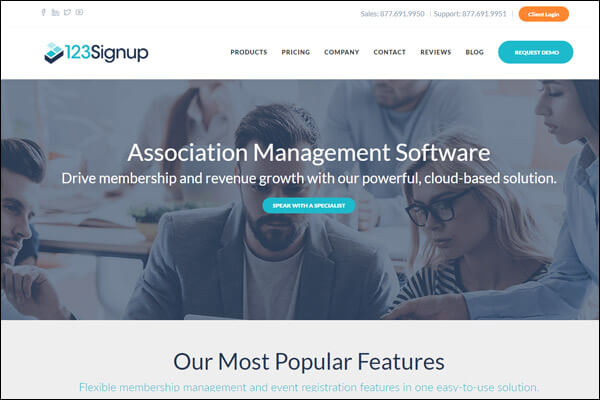 What Makes This One of Our Top Choices
With these features, your staff can trust that your software is working as hard as they are.

123Signup is one of our favorite association software options because of its sweet simplicity. You get the features you need at the best price for you, and you don't have to worry about overpaying or missing out.
11. Morweb
Overview of this Association Management Software
Morweb is a unique platform because of its utility as both an association management solution and a robust content management system.
With Morweb, you can easily build functional, responsive web pages and empower your members to take advantage of your online directory, communication system, and document storage.
Your website can now be a central hub of institutional knowledge thanks to Morweb's capacity to build searchable libraries of PDFs, images, Word documents, and more.
Top Features of this Software
Morweb's combination of association management and content management features make it a powerhouse software option. Here are some of our favorite features:
Customizable forms for collecting contact information, registering for events, volunteering, and uploading documents.

Widgets for streaming your latest updates like blog posts, event offerings, or news updates anywhere on your website.

Their powerful web builder makes it easy for anyone to create an attractive, functional, informative website—no coding knowledge necessary!
What Makes This One of Our Top Choices
Morweb's customizable web design tools and attached AMS features make it one of the membership website builders in the industry.

Morweb's intranet communication system, online community features, and ease of use all make it one of our top favorites in this association software review. This is a great choice for associations hoping to communicate better with members online.
12. Novi AMS
Overview of this Association Management Software
Trade association professionals know that helping their members develop professionally and form valuable connections with other members are top priorities. Novi AMS is an association management software solution designed by and for association professionals that will help you achieve those goals.
Novi AMS makes it easy for your association to create and update an engaging website, stay in contact with your members using communication features, and keep track of important accounting information through its integration with QuickBooks.
Top Features of this Software
The platform is just as easy for members to use when they want to register for events and update their profiles. From creating websites to keeping member databases organized, Novi AMS facilitates every aspect of association management so that trade associations can work to build connections among their members.
2-way, 24/7 integration with QuickBooks.

Keeping track of your trade association's finances doesn't have to be difficult! Novi AMS integrates with QuickBooks so that all information entered into one system automatically appears in the other. Your association will find it easy to track the invoices you create, the payments you process, and other important financial data.

Easy-to-use CMS. Novi AMS understands that not every trade association professional is a developer with extensive coding experience. Their CMS is designed to help you use simple tools to create an attractive and engaging website for your association and your members regardless of your level of coding knowledge. The sites created using the Novi CMS are fully responsive on all devices. You can even update them from your smartphone!
A member database designed for trade associations.

Most trade association members join as employees of a company rather than as individuals. Your Novi AMS member database shows these parent/child relationships as well as additional affiliations your members may have with other institutions, such as larger parent companies.
What Makes This One of Our Top Choices
Novi AMS is the only AMS approved by Intuit for the QuickBooks App Store. For trade associations already using QuickBooks as their accounting software, Novi AMS can help ensure that you'll have comprehensive financial records updated and available in both your AMS and your accounting system.
---
If your association, organization, or other type of membership-based group needs a new management solution, it's important to do your research. Professional software can be a major investment, and this is especially true if you'll be relying on it for such crucial functions as membership directories, event planning, online community management, and more.
One best rule of thumb: look for a lean solution. Both general and niche management software can offer extremely effective tools, but lean and integrated solutions tend to be the most flexible and useful for all situations in the long run.
Consider your group's exact needs and use this guide as a launchpad for your research! Check out these additional resources for more information: