If your association uses Salesforce, you already know why it's the world's leading CRM and management platform for businesses and organizations of all sizes. Its features are comprehensive and offer an unrivaled level of functionality.
However, the Salesforce AppExchange is by far one of the platform's biggest benefits.
The AppExchange is a central marketplace for Salesforce plugins, which allows for the complete customization of the platform's utilities. This makes it incredibly easy to build your own toolkit of features, all designed to work seamlessly on the management platform you've come to rely on.
We've written elsewhere on the top Salesforce plugins for event management, but hosting member events is just one part of what your association does.
Associations have complex needs. From membership management to fundraising, partnership building to digital marketing, you've got a lot on your plate. Study up on the wide range of Salesforce plugins available on the AppExchange with our top picks:
These top 7 plugins offer a fairly comprehensive overview of the level of quality and utility to expect from top-notch apps. Let's dive in:
Top Salesforce Plugins from Fonteva
1. Fonteva Membership: Best Salesforce Plugin for Association Management
Salesforce Plugin Overview
Designed to be the last management tool you'll ever need, Fonteva Membership is the future of association management software. With comprehensive data management, member engagement, and eCommerce features, Fonteva's AMS solution is a top Salesforce plugin that should be on every association's radar.
A few features and characteristics make this plugin a top association management software solution, including:
Full member profiles. Comprehensive profiles are automatically populated with new engagement data, combining the robust CRM foundation of Salesforce with the management insights of Fonteva. Easily track key engagement metrics at every level.
Member portals and communities. Create public and private microsites and member communities. Empower your members to engage in new ways with self-service options and interactive chapter, committee, and group portals.
Intuitive reports and dashboards. Draw from your wealth of data to generate customized reports at the push of a button. Refine your engagement and management strategies in real time with built-in dashboard capabilities.
Why This Plugin Stands Out
It can be a challenge to find the right association management solution to meet your needs, but if your association already uses Salesforce, this one's a no-brainer.
Because Fonteva is a native Salesforce plugin, that is, software built entirely on the Salesforce platform, the integration is seamless. 
This translates into several major benefits for your association. As a true-cloud solution, Fonteva Membership software is always up to date. Your management and database tools speak the same language, meaning all your data is automatically reported.
The intuitive, comprehensive, and lean features of Fonteva Membership give your team the flexibility to effortlessly switch focus from individual metrics to big picture trends and fine-tune your strategies like never before.
2. Fonteva Events: Best Salesforce Plugin for Event Management
Salesforce Plugin Overview
As Fonteva's suite of event planning and management tools, Fonteva Events is a fully native Salesforce plugin. Designed to streamline even the most complex, enterprise-level events like major conferences and expos, Fonteva Events packs a punch with its comprehensive features.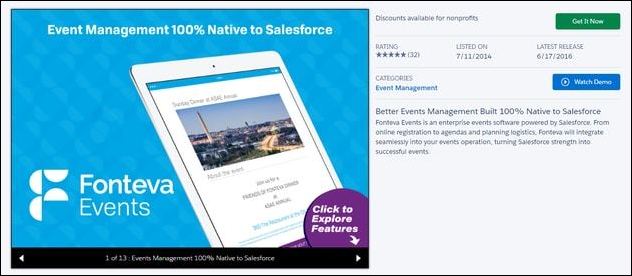 Associations regularly plan and host all kinds of events for members, partners, and their communities. This plugin makes planning events in Salesforce a breeze because it offers features like:
Event lifecycle management. Comprehensive planning features and intuitive management interfaces let you track the progress of your events every step of the way. Get big-picture insights as you manage micro-level details.
Dynamic session builder. Association events have to be engaging, and Fonteva Events makes it easier than ever to create custom session tracks for your attendees. Your member communities can even collaborate on their own sessions for the big day.
Custom event sites. An event website has to accomplish a lot, from promoting your sessions to processing registrations and payments. Fonteva Events offers an all-in-one solution to host your event website and report its generated data directly to your Salesforce database.
Why This Plugin Stands Out
Like its counterpart membership management suite, Fonteva Events is the perfect Salesforce plugin for event planning and management because it's fully native to the platform.
In the past your organization might have used a third-party event planning tool to organize and manage your meetings, conferences, and fundraisers. If that's the case you already know that a lot can fall through the cracks when your team is busy switching between platforms.
With Fonteva Events, all your management data and tools reside within your Salesforce CRM.
This allows your team to make more informed decisions at every step in the complex event planning and management process. Plan smarter events, manage them more efficiently, and then learn more from them than ever before.
3. Salsa Labs: Best Salesforce Plugin for Online Fundraising
While not available as an app on the Salesforce AppExchange, SalsaLabs offers a robust online fundraising suite that fully integrates with your Salesforce CRM.
For associations that devote considerable time and energy to raising money and processing payments online, Salsa's collection of tools can be an invaluable addition to your toolkit. Its full integration with Saleforce means it speaks the same language as the management platform on which you've already built your operations.
Some top features of the Salsa suite of online fundraising tools include:
Peer-to-peer fundraising capabilities
Customizable fundraising and donation forms
Donor, advocate, and volunteer-specific tools
Embedded matching gifts database access
Integration with Salesforce means your set of online fundraising tools from Salsa Labs can draw directly from your data, helping you make smarter decisions in any campaign.
For instance, integrated fundraising tools make the perfect addition to the list segmentation features of Salesforce. Target your members and supporters better than ever while raising more along the way.
4. OneCause: Best Salesforce Plugin for Donor Engagement
OneCause leads the race in donor and member engagement tools.
Besides offering a suite on online fundraising tools, OneCause makes a powerful partner for associations that need to better engage their members. Even better, it offers a free Salesforce plugin to ensure that all the valuable engagement data you generate goes exactly where it needs to be — in your Salesforce CRM.
OneCause specializes in a few main areas of donor and member engagement, including:
Text-to-give software
Online payment processing
Mobile bidding tools and apps
Online auction planning and management
Auctions are among the most reliable fundraising and engagement techniques for all kinds of enterprise-level organizations and associations. OneCause leads in online and mobile auctions  because its tools were the first and continue to be the best in the space.
If your association needs a new engagement-boosting set of tools for its arsenal, the integration provided by the OneCause Salesforce plugin might just be the icing on the cake.
5. SwagIQ: Best Salesforce Plugin for Building Relationships
Your association has a lot of crucial relationships to foster and cultivate. From sales to partnerships, marketing to engagement, it's essential that your team stays on top of managing the web of relationships that supports its efforts across the broader space.
SwagIQ is designed to help you close more deals, attract more partners, and break through the noise by simplifying and managing your interactions.
As a Salesforce plugin, this means your whole database of information is at your fingertips as you use any of SwagIQ's key features:
Create and manage your swag gifts and products for members, partners, and donors
Boost your marketing efforts by making real connections
Track shipments, direct mail, and digital marketing campaigns
Trigger outreach at the right moments with real-time, rules-based alerts in Salesforce
Relationships with their members, whether individuals, businesses, or other organizations, is of utmost importance for associations. Smarter tools and Salesforce plugins like SwagIQ make it easier than ever to drive engagement and grow your influence with both physical and digital outreach.
6. Marketo: Best Salesforce Plugin for Digital Marketing
More and more, associations depend on their ability to engage members online and attract new audiences using digital content and tools. Digital marketing is a challenge for many associations, but the right tools can help.
You already know that Salesforce offers powerful tracking and reporting capabilities for your marketing campaigns. Adding the Marketo suite of marketing and email automation tools to the mix is a smart move for any association.
Some of Marketo's top features and tools include:
Email campaign creation, management, and tracking
Smart automation tools to maximize impact of email communications
Lead nurturing features for cross-channel campaigns
Lead scoring and analytics to track potential donors, members, and upgrades
Of all the aspects of your association's operations, the ability to easily access and analyze your data is perhaps the most important when it comes to marketing. Marketo is an ideal Salesforce plugin to help your team better streamline its marketing activities and learn more from your past campaigns.
7. SMS Magic Interact: Best Salesforce Plugin for Communication
Smarter communication strategies are an essential way for modern associations to maintain the healthy cultures of engagement that they encourage among their members.
Salesforce plugins like SMS Magic Interact make it easier than ever for those associations to reach members where it really matters — on their smartphones. Increasing visibility in the right places goes a long to increase member engagement.
Consider these features:
Central text conversation management, segmentation, filtering, and alert tools
Industry-specific message templates for easy use
Fast text campaign set-up and customization
Video and image embedding
Like Fonteva's suite of association management tools, SMS Magic Interact is a native Salesforce app. This means all of your text message tools, past campaign data, and member contact information are within easy reach of one another. Take your communications to the next level to keep your members engaged!
If your association is smart enough to use the world's leading CRM and data management platform for businesses and organizations, you owe it to yourself to explore the AppExchange.
Salesforce plugins can completely change your interactions with the platform, taking it from an excellent foundation to the ultimate toolkit.
Be sure to continue your research with a few additional resources too:
https://associations.fonteva.com/wp-content/uploads/2018/09/salesforce-plugins-top-picks-for-associations.jpg
300
615
jfabbri
https://associations.fonteva.com/wp-content/uploads/2017/10/fonteva-logo-200.png
jfabbri
2018-09-27 17:10:04
2019-01-16 23:33:43
Salesforce Plugins | 7 Top Picks for Your Association