Your team pours its heart and soul into leading your association in a way that benefits all your members. You need an association management solution that's got your back.
If your current management platform falls short and you're looking for a newer solution, making the right decision can certainly feel overwhelming. After all, an effective association management solution becomes central to your association's operations. From payment processing to event planning, online communities to data reporting, association software has a lot to accomplish.
Plus, any new solution you find must fit within your budget. It has to work with the other tools you've come to rely on, and most importantly, it should be easy for your team to use!
It can be difficult to know which qualities to prioritize as you research your options. What's the best way to find the association management solution that checks all the most important boxes? From our years of experience in the space, we've boiled down the process to 8 key steps:
Once you're familiar with these essential steps, we recommend beginning with our top picks for the best association management software on the market. They should give you and your team a great starting point as you start your research.
A new association management solution is an important investment! You owe it to your association to take every precaution in finding the perfect platform to suit its goals and needs.
1. Build a team to assess prospective association management solutions.
As with many important administrative decisions, establishing an assessment team to research your options is the first step in finding a new association management solution.
Your team should ideally represent a full range of perspectives. That is, any potential solution needs to work just as well for your rank-and-file members as it does your leaders and administrators. We recommend building a team that includes individuals who together represent all or most of these positions within your association:
Executive leadership – someone who needs actionable, big-picture views of data
Administration staff – future day-to-day users of your management solution
Outreach coordinator – someone who connects management and membership
IT or systems manager – individuals who can identify potential stumbling blocks
Accountant or treasurer – someone who fully understands your budget and options
Rank-and-file member – the people who need intuitive tools for actual engagement
Of course, the scope of your team will depend on the size of your association. Don't let your team grow too large, but definitely don't restrict your perspective. This leads to a warped view of the software you're considering.
The main point is to cover all your bases; you need to know that an association management solution will be a useful management, planning, marketing, and engagement tool that actually works and provides value for everyone. Otherwise, it's simply not a worthwhile investment.
We'll cover the actual process your team should follow in later steps.
2. Identify your objectives for a new association management solution.
Next, you and your team will lay out your exact reasons for needing a new association management solution. Be as specific as possible. This step is all about about finding the 'north star' for your software research.
Chances are you've already got a firm grasp on your most immediate goals. Are you looking to replace an existing association management solution? Did that management software prove ineffective? If so, what exactly was wrong? These answers will guide you in establishing your essential objectives.
Your essential objectives are the concrete guidelines to keep in mind as you research your options. Any potential solution you assess should satisfy these objectives. Typical examples will be in direct response to a new need that has arisen for your association. Try this exercise by filling in the blank:
You probably answered with one or more of these typical essential objectives:
Provides an easier-to-use experience for our members and staff.
Doesn't crash, freeze, or otherwise waste time and resources.
Includes tools and features that are actually engaging.
Generates more coherent and useful data reports.
Fits within our changing annual budget.
Or is it all of the above? List out your essential objectives with your team, and make sure everyone understands them. Remember, they should include both your big-picture goals, like the ones listed above, and other quantifiable guidelines. These include a concrete budget and a timeline or projected deadline for implementation.
3. List, analyze, and rank your association's software needs.
Once your team establishes a set of concrete essential objectives for your next association management solution, take a step back to examine your more general needs.
This is when you think about all the additional features that each stakeholder in your association wants from its next management platform. 
With a range of perspectives on your assessment team, there should be no shortage of wishlist items to consider. Consider every angle of interaction — what features would be most useful to an executive, administrator, accountant, or member? Compile all your software needs and ideal features, tidy up your list, then start ranking. Your list might look something like this:
Budget-appropriate cost
Engaging and easy to use for members
Integration with current tools for staff
Smarter data views for long-term planning
Comprehensive event management features
Refine all your team's top needs and wants for a new association management solution to a ranked list of 5 to 10 entries. While your essential objectives are the most important, these ranked additional needs act as extra guideposts as you weigh your options. Any possible solutions you consider must address your essential objectives and then fulfill all or most of your additional needs. 
4. Identify a first round of potential management solutions.
Now it's time to jump into the research itself. One way to simplify the process is to consider what type of management software would be most useful for your association — niche, general, or flexible:
A niche solution is designed to meet the exact needs of your specific type of organization. Their key features are often extremely useful, but functionality might be limited overall. For instance, generating comprehensive reports or integrating with your CRM might prove difficult.
A general association management solution will address your most important objectives and dominate the market, but it's likely not your best choice. Consider all the alternative solutions out there that offer more flexible, customizable features.
A flexible association management solution will provide the benefits of both niche and general management platforms. This is typically because they're cloud-based, built on more nimble, cost-effective, and adaptable infrastructures. A native Salesforce app is a great example.
These categories can guide you in the right general direction and narrow the playing field as your team starts researching all the platforms out there.
Next, read some reviews to get a sense of the software space. The top third-party software review sites are especially useful. Since any verified users can submit their reviews, these sites tend to offer the most reliable feedback on any given association management solution. Capterra, AppExchange, and G2 Crowd are your best bets for reviews and rundowns of top features.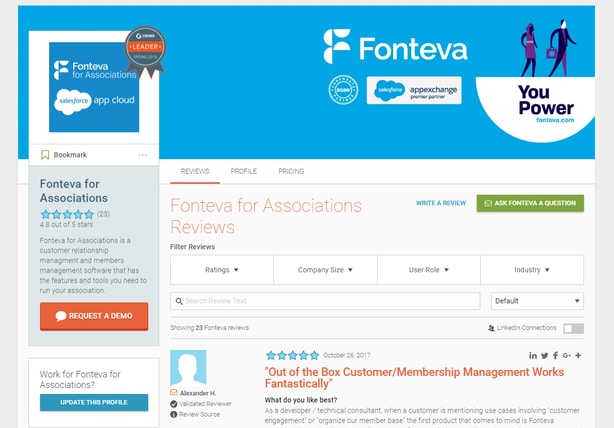 As a team, or on your own as team leader, generate a list of 10 or fewer top association management platforms. As we mentioned above, they should all address your essential objectives from Step 2 as well as most (or at least several) of your additional needs from Step 3.
5. Explore the features of each association management solution.
This is the stage where you really dig into each of your top picks. Ask your team members to research the features, reviews, pricing, and specifications of each association management solution that you identified in your first round. At least two team members should independently research each platform.
There are a few categories of features that reliably indicate innovative or particularly strong choices when it comes to association management tools. These include:
Real-time data insights
Seamless mobile functionality
Member-facing flexibility
Predictive data analysis
Additionally, association management solutions that prioritize community-building are typically designed with an eye towards intuitive user experience. Online communities that offer members plenty of freedom to engage and manage their own interactions are a perfect example.
Keep detailed notes as you research each software solution. An easy way to organize your findings might be a chart — one side contains each management platform, the other lists each of your essential objectives and additional needs. Check off where each solution meets the criteria to quickly see how they stack up. Here's a sample template:
Remind your team members to reach out to individual vendors for answers to their more specific or technical questions, on the analytics reporting or security protocols of the software, for instance.
6. Review your first impressions and initial responses.
Gather your assessment team to compile all your findings and compare your impressions of each association management solution. Since each prospective software was researched by at least two team members, you should have fairly well-rounded responses that represent a range of perspectives. You might even wish to conduct a few more rounds of research to ensure a 360 degree view of each solution.
The most important part of this step is to organize your team's thoughts and draw some conclusions. If you made charts to track how each solution stacked up against your essential objectives and additional needs, it's time to compile and average all that data. Here's how yours might look:
Then sit down with the team to discuss your findings and qualitative observations. You might get started by asking a few questions:
Which solutions satisfied the most essential objectives and additional needs?
Which association management solution satisfied the least of them?
Did any software really jump out as particularly high-quality or reliable?
Which solution seemed like it might be the most useful overall?
Directly comparing the management platforms this way can quickly reveal the top choices. Be sure to make full use of your whole team's perspectives, though.
For instance, if one team member works in IT support or management, ask them to imagine implementing the solutions. Do they foresee any glaring issues? Their insights can immediately reveal which solutions will work well with your existing infrastructure, like comprehensive Salesforce apps, and which will end up creating more work in the long run.
After reviewing all your findings and impressions, it's time to refine your shortlist of prospective association management solutions to around 3 or 4.
7.  Watch demos of the top association management software.
Before getting started with this step, your team may wish to repeat Steps 4 through 6. Depending on your association's needs, deadlines, and the number of initial solutions that your team found, it might be worthwhile to take a little extra time with your research. Just make sure to shrink your shortlist with each new round of review.
As you draw closer to making a decision, it's time to take each association management solution for a test drive. The executive-level member or other leader of the assessment team should organize demos of the top solutions that you identified in the previous step. Reach out to the individual vendors to schedule a demonstration of their software.
Your whole team won't need to be present for the demos — gathering their insights was the point of the previous steps — but it's still important to include one or two others. The most important team members to involve in the demo process are:
Leaders and executives
Technology and development
Member-level users
Any other team member whose insights are particularly relevant to your overarching goals for the new software
Finding an association management solution that satisfies the team's objectives, proves easy-to-use for both leaders and members, and gets your resident tech expert's seal of approval is probably a winner. This includes all of its member-facing, administrative, and database functions.
During the demos, take notes and ask specific questions that you've brainstormed ahead of time. Consider all sides of each demonstrated software. Address any features you think might be lacking, and discuss pricing in-depth with the vendor. Now is the time to get definitive answers before making your final decision!
8. Choose your new association management solution.
By this point your shortlist of possible management platforms should be narrowed down to just 2 or 3. 
All of your team's hard work will soon pay off! Your reward? The satisfaction that comes with knowing you've made the absolute best choice for a new association management solution.
Even if one of the prospective software solutions stands above and beyond the others, don't abandon your careful, systematic approach just yet. Complete the following steps:
Compile all your notes from the demos, and briefly discuss them with the demo team members.
Look back over your essential objectives and ranked list of additional needs. Make sure that you and your team haven't lost focus over the course of your research.
List out the most impressive or important features of your final candidates.
Compare price points, and weigh your options in terms of your budget.
Make your final choice. Congratulations!
Implementing a new association management solution is an important moment for your association! An effective platform will serve as a powerful foundation and partner for your growth. Feel secure knowing that you and your team took the time and effort to find the right one.
---
Wrapping Up
If you're a leader of your association, or if you've simply been tasked with researching all of your association's options, you're probably already aware that choosing a new management solution is a major responsibility.
However, by following a few essential steps, building a reliable team, and breaking it down into a systematic approach, there's nothing stopping you! Bookmark this page to reference the process later if you need it again, and make sure to continue your research with a few additional resources, too:
https://associations.fonteva.com/wp-content/uploads/2018/07/perfect-association-management-solutions-8-steps.jpg
300
615
jfabbri
https://associations.fonteva.com/wp-content/uploads/2021/09/FONTEVA_WHITE_LOGO-smol.png
jfabbri
2018-07-30 21:00:07
2018-10-05 15:32:00
Find the Perfect Association Management Solution | 8 Steps