When it comes time to upgrade your association management software, you shouldn't go into the marketplace blind. Making a smart purchasing decision can set your association up for success for the future — the right association software will address your current needs and expand with your association as it grows.To ensure your enterprise-level association gets the necessary flexibility, scalability, and support from your new solution, go with a true cloud solution. Without the restrictions of a locally hosted solution, true-cloud solutions can provide all of the above and more.
Once you've narrowed your options down to cloud solutions, what else should you look for?
Here are the top five features to keep in mind as you embark on your association management software purchasing mission:
Integrating these features with your association management database allows your association's administrative team to stay on track to meet your ambitious goals, all while encouraging your members to engage with the member community. The right association management database will do both: keep you organized and empower your members!
Get ready to take notes as we dive into it!

1. Custom Dashboards
As your membership base expands over time, your operations and offerings should expand, too! More members means more revenue to fund new programs and initiatives, but it also means more responsibility to deliver what members are looking for.
To ensure you can identify those areas in which your association can improve, choose an association management database with robust reporting features.
When your association management database can produce reports, you can pull membership data without having to export to an expensive third-party reporting solution. You might be looking for:
Membership sign-ups
Renewal rates
Event attendance
Overdue invoices
With true-cloud association software like Fonteva for Associations, every member of your team can craft custom reports by pulling any of this data and more from any corner of your operations. And, through Fonteva's drag-and-drop interface, you can do it without any help from IT.
The ability to create custom reports without any coding is key for large associations with multiple departments taking on a variety of initiatives.
During your search for an association management database, be sure to ask about customization and configuration. If you will need to coordinate with the vendor or in-house IT every time you need a new reporting view, you'll waste precious time jumping through those administrative hoops.
2. Event Management
Most associations, especially professional ones, plan events of some kind for their members. Whether those events take the form of networking cocktail hours or weekend-long conferences, they're easier and more efficient to run within your association management database.
Not only will an integrated system save you money by eliminating the cost of third-party event management software, but you'll also make the event registration and management processes quicker and more reliable. Your association management database can populate registration forms with your members' data saved within it and record event attendance data and badges directly into your member profiles.
Besides the benefit of eliminating timely and costly data transfer, with events integrated into your association database, you can take advantage of:
Membership benefits — Encourage member attendance through special discounts, priority registration, or free add-ons automatically added to their ticket purchase.
Branded event sites — Consolidate registration, event details, updates, and photos on one branded website to get attendees excited about the event.
Member leadership — Allow local chapters or other member groups to plan their own events, saving your team time and encouraging member engagement.
Especially if your association hosts many events, consider looking for an association management solution based in Salesforce, like Fonteva: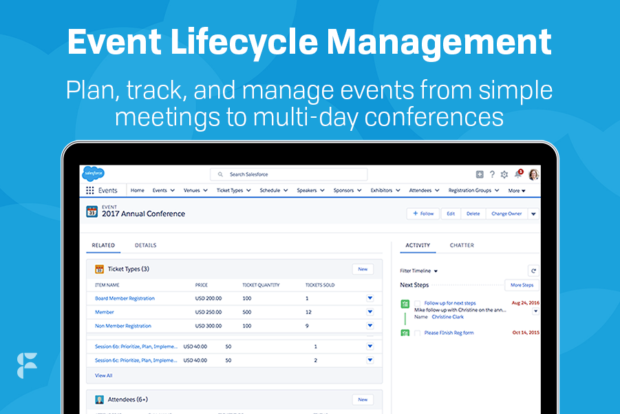 Salesforce event planning apps automatically integrate with your association's member database because they're hosted within the same platform!
3. Member-Driven Committees
Empowering your members to take the lead on some of your projects is beneficial for both you and your members:
For your association, member initiative results in less work for your team.
For your members, taking the lead brings them even closer to the member community.
To bring your member community closer together by encouraging your members' initiative, you need software that can support member-driven projects. In your software search, look for solutions with built-in group features, like Fonteva for Associations:
With committees in Fonteva for associations, your members can:
Request to join and manage those requests.
Communicate with other committee members.
Share documents, including meeting minutes.
Plan events for committee members or all members.
View the directory of committees.
Manage the committee's calendar.
These features allow members to tackle special projects with minimal oversight from your administrative team. Just set the infrastructure in place and encourage them to use it!
4. Revenue Accounting
As your association grows, its revenue will grow alongside it! But as you start new programs or expand popular ones, your expenses will grow, too.
You already have an accounting solution that works for you. To support your association's expansion, you need a more streamlined bridge between your association's ledger and your books.
When purchasing your association management database, look for solutions that can centralize your financial data, not just your member's contact data. We're talking about:
Member dues
Product sales
Registration costs
Debits, credits, and refunds
Then, you need this sub-ledger to integrate with or export to your accounting solution. Try a solution like Fonteva, which can accommodate multiple currencies and export journal entries in common file types for easy integration with your existing accounting system:
The more streamlined your accounting can be, the more confident you can be as you plan your budget to grow your association.
5. Advanced Personalization
No other association operates exactly the same way as  yours, which means your association management solution needs to be flexible enough to address your unique needs.
Take pricing rules, for example. Your members love to receive benefits associated with their membership. Depending on your association, those benefits might include:
Early access to event registration
Exclusive invitations to events
Coupons for your online store
Discounted membership renewal
A great association membership database can apply these benefits automatically to purchases your members make when logged in with their credentials. But the best software can also apply variable pricing rules based on the details in your members profiles, which greatly improves the member experience:
For example, you could offer a higher discount for gold members (20%) than you offer to silver member (10%). You could also offer an earlier registration slot for an upcoming conference to members who register more than a month before the event, or those who attended a certain training class, or those who made a donation of a certain amount in the past year.
Some members might purchase a membership just to take advantage of these benefits. To ensure that your office isn't flooded with calls from new members wishing to take advantage of their new membership benefits, make sure that the association management database solution you choose is able to apply benefits to the same purchase when a membership is added to the cart.
---
Your next association management database is an investment! Let these tips guide you to a solution that will grow along with your association in the long term.
In the meantime, check out these association software resources:
https://associations.fonteva.com/wp-content/uploads/2018/03/Association-Management-Database-Features-to-Know.jpg
300
615
jfabbri
https://associations.fonteva.com/wp-content/uploads/2021/09/FONTEVA_WHITE_LOGO-smol.png
jfabbri
2018-03-10 10:00:52
2018-03-26 21:41:00
5 Association Management Database Features to Know